Ofc. James Shores
Officer James Shores is from State Road, NC and has been employed with the Thomasville Police Department since 2008. Prior to coming to Thomasville Police Department, Officer Shores was a High Point Police Officer. Officer Shores has over 18 years of Law Enforcement experience and prior to his law enforcement career he was a Corporal in the United States Marine Corps.

Officer Shores is currently assigned to the Thomasville Police Traffic Safety Unit's, Motorcycle Unit and has hundreds of hours of Police Motorcycle Training. He is currently assigned a 2011 Kawasaki Concours 14 Police Interceptor motorcycle, fully equipped with MPH Bee III Directional radar and LTI Lidar.

Officer Shores has been riding both dirt and street bikes for 34 years and completed Bike Safe Assessor training in Hendersonville, NC in March 2012.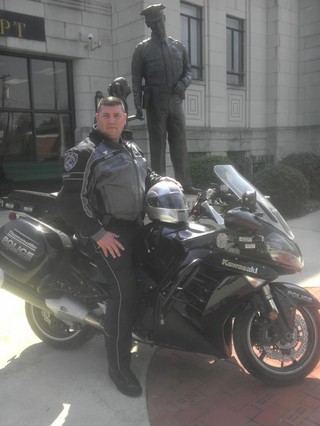 Click to see full-size photo